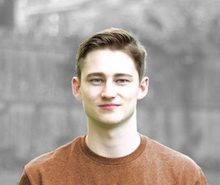 Data scientist, cartographer, designer
I'm a Northern Virginia native, currently living in Reston. I graduated from the University of Chicago in 2019 with a B.S. in statistics.
As a geography and data nerd, I make maps in my free time, inspired by the world around me – whatever happens to be on my mind. Every now and then a map of mine becomes popular and gets publicity. Those interested can see my work or get in touch through this website.
I've also written a few Quora answers, some of them quite in-depth. I made this site to consolidate my maps, answers, and other creative output.
Let's get to work
I'm available for hire as a freelancer. If you need to …
Make a map
Make an interactive data visualization
Process some big spatial data
Measure something that's hard to measure
… then I'd like to hear from you.
How to reach me:
Published
"Assessing the Value of Market Access from Belt and Road Projects (English)" (2019) co-authored with Tristan Reed, World Bank Working Papers. Link to paper. Replication code on GitHub.
"O Voto do Brasileiro", (2018) prod. maps, book written by Alberto Carlos Almeida.
"Ciudades Fronterizas EUA-México" [US-Mexico Border Cities] (2018), Revista de la Universidad de México No. 838/839.
"Roman Roads of Britain" (2017), British Archaeology No. 156.
"Viae Romanae Maiores" [Major Roman Roads] (2017), under "Tous les chemins partent de Rome", Courrier International No. 1393.
"The Urban Pileup Effect of NAFTA" (2017), Texas Monthly 45(5). Link to map and article.
"America's GDP, Split" (2015), The Best American Infographics 2015, ed. Gareth Cook.
Other features and mentions
Mar 2019 — Open Culture, "The Roman Roads of Spain & Portugal Visualized as a Subway Map: Ancient History Meets Modern Graphic Design"
Aug 2018 — Traveler España, "Este es el mapa de las principales calzadas romanas de Europa"
Aug 2018 — My Modern Met, "Ancient Roman Roads in Italy Transformed Into Modern Subway Map"
Jan 2018 — UChicago Magazine, "Maps and legends"
Aug 2017 — The Guardian, "Bored of London-centric Britain? Blame the Romans and their roads"
Aug 2017 — Business Insider, "The Roman Empire's roads in transit map form"
Jul 2017 — Daily Mail, "Britain's 2,000-year-old network of 'lost' Roman roads and settlements is reinvented in an underground map"
Jul 2017 — Atlas Obscura, "A Very Modern Map of Britain's Ancient Roman Roads"
Jun 2017 — Mental Floss, "Designer Reimagines the Roads of the Roman Empire as a Subway Map"
Jun 2017 — Open Culture, "Ancient Rome's System of Roads Visualized in the Style of Modern Subway Maps"
Jun 2017 — Colossal, "The Roman Empire's 250,000 Miles of Roadways Imagined as a Subway Transit Map"
Jun 2017 — Vice, "The Roads of the Roman Empire as a Subway Map"
Jun 2017 — Reader's Digest, "The Romans Built Over 250,000 Miles of Roads. It Looks Insane as a Modern Day Subway Map."
Jun 2017 — Gizmodo, "What The Roads Of Ancient Rome Would Look Like As A Modern Transit Map"
Jun 2017 — Big Think, "A Tube-style Map of Roman Roads"
Jun 2017 — Popular Mechanics, "This Map Reimagines the Roman Empire With Subways"
Jun 2017 — Designboom, "Statistics student turns the roman empire's ancient roads into a subway map"
Jun 2017 — Inverse, This 20-Year-Old Designs Some of the Internet's Best Maps
Jun 2017 — Citylab, "A Fantasy Subway Map of Ancient Roman Roads"
Dec 2016 — Citylab, "America's Love of Sprawl Starts Right at the Border"
Feb 2016 — Citylab, "A Judgmental 'Urban Dictionary' Map of San Francisco"
Feb 2015 — Vox, "Map: How much snow it takes to cancel school in each state"
Oct 2014 — Huffington Post Canada, "If Canada Had 36 Provinces, It Might Look Like This"
Feb 2014 — Pew Research Center, "Chart of the Week: How metro areas drive the U.S. economy"
Feb 2014 — Washington Post, "Map: The most popular languages (other than the obvious English and Spanish)"
Feb 2014 — Washington Post, "The case for big cities, in one map"
Feb 2014 — Business Insider, "MAP: These 7 Tiny Orange Splotches Are Responsible For A Quarter Of US GDP"
Jan 2014 — The Atlantic, "Map: 'How Much Snow It Typically Takes to Cancel School in the U.S.'"