List of Western countries
7 December 2017
There is no single definition of what the West is, so the list of countries changes depending on context. The different contexts are outlined in this Wikipedia article. Since people are now visiting this page more frequently, I will present three definitions, which people can use depending on context:
The Latin West (cultural definition) – A broad definition of the West is all countries that were shaped historically by Western Christianity – today's Catholic and Protestant churches. These countries use the Latin alphabet and have similar cultural and ethical values. They are not necessarily wealthy or politically aligned, however. This is my favorite definition, because I think it most accurately shows the divide between different worldviews.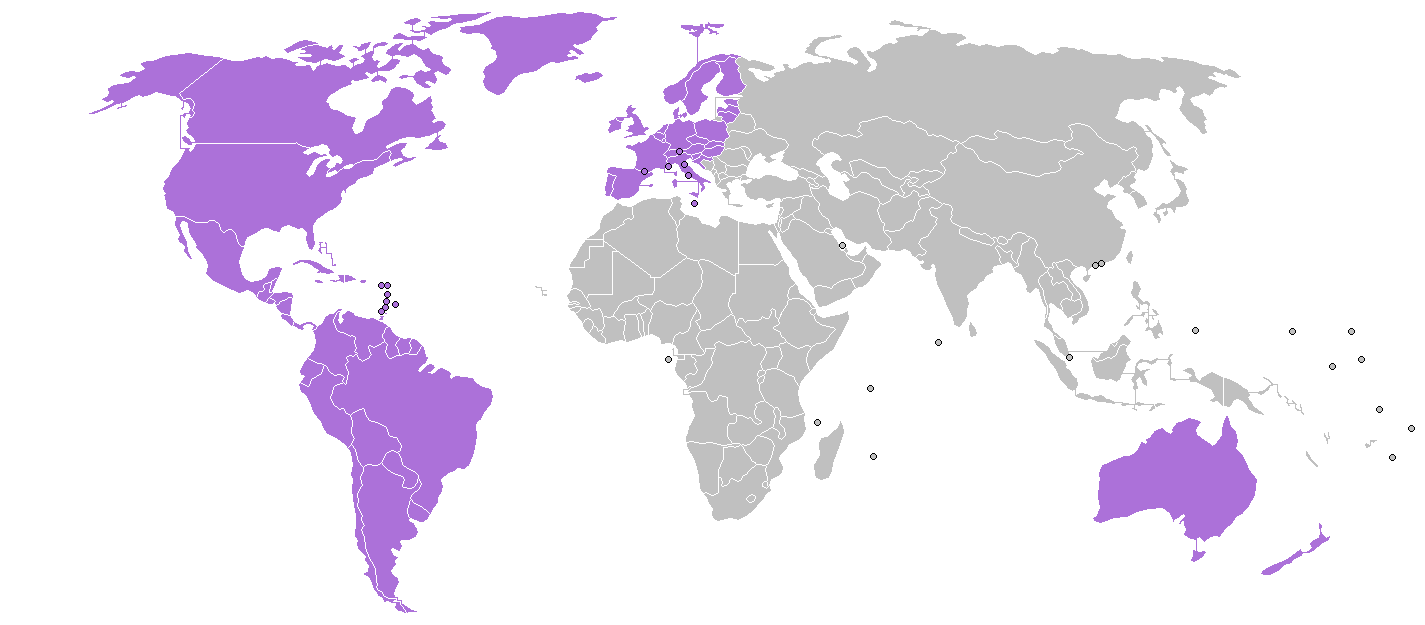 The Cold War West (political definition) – These are the countries whose dominant culture is European that were aligned against the USSR during the Cold War. These countries had democratic, capitalist governments after World War II. They were not necessarily wealthy or even politically aligned, besides being against communism.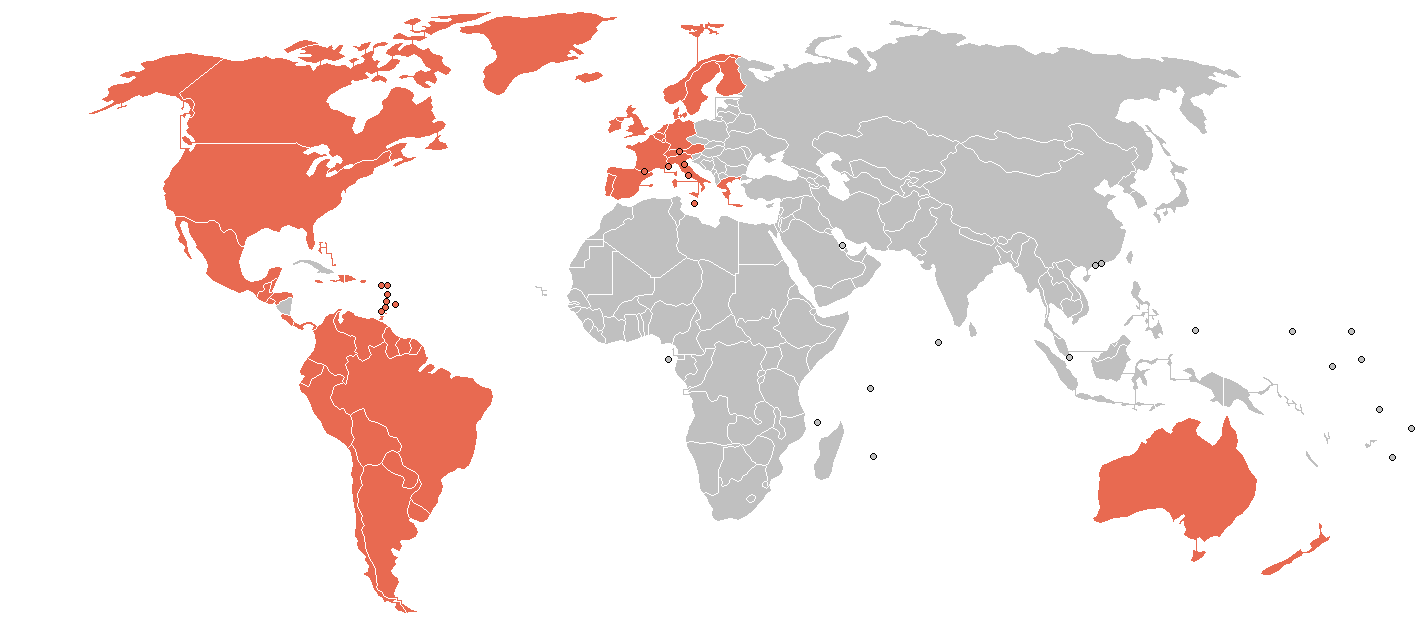 The Rich West (economic definition) – This is a narrower definition, but is commonly used nowadays. The Rich West consists of all European-settled countries whose GDP per capita is over US$10,000 (2016 World Bank estimate). This takes away many Central and South American countries that are not highly developed. On the other hand, this definition includes former communist countries like Poland and Latvia whose economies have improved greatly in the last generation.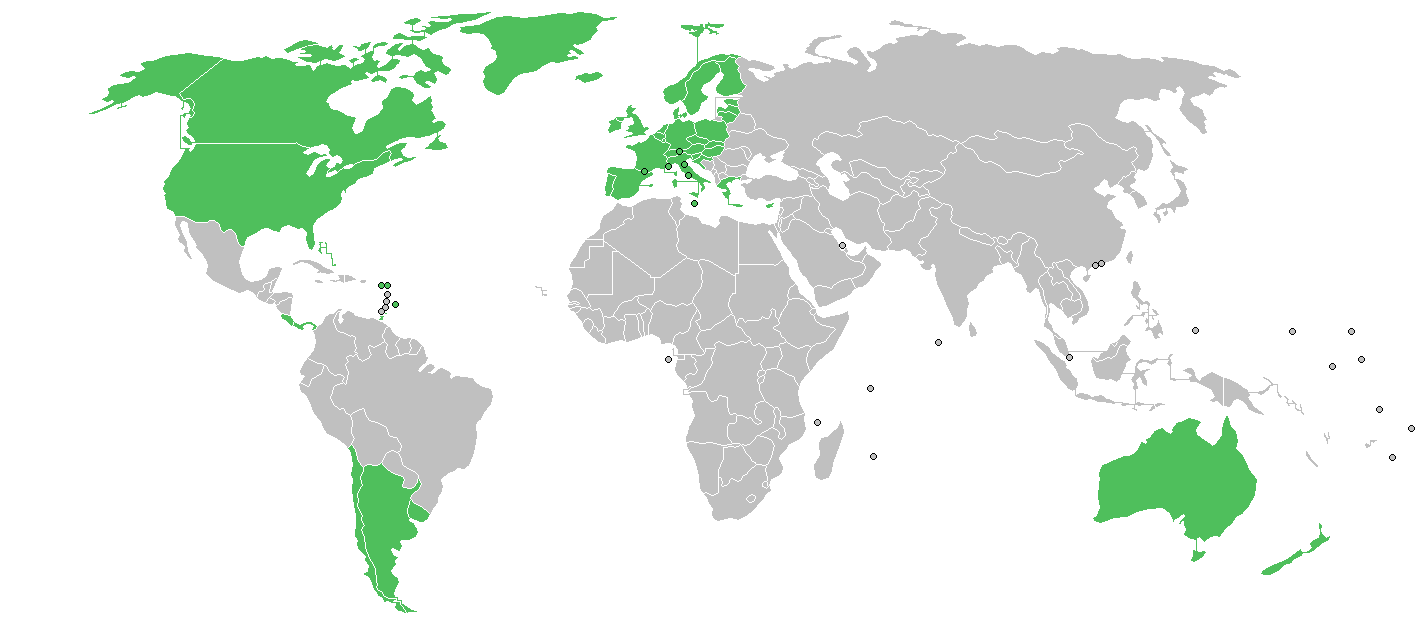 Here are all the countries that fit any of these three definitions:
| Country | Cultural | Political | Economic |
| --- | --- | --- | --- |
| Andorra | ✓ | ✓ | ✓ |
| Antigua and Barbuda | ✓ | ✓ | ✓ |
| Argentina | ✓ | ✓ | ✓ |
| Australia | ✓ | ✓ | ✓ |
| Austria | ✓ | ✓ | ✓ |
| Bahamas | ✓ | ✓ | ✓ |
| Barbados | ✓ | ✓ | ✓ |
| Belgium | ✓ | ✓ | ✓ |
| Belize | ✓ | ✓ | |
| Bolivia | ✓ | ✓ | |
| Brazil | ✓ | ✓ | |
| Canada | ✓ | ✓ | ✓ |
| Chile | ✓ | ✓ | ✓ |
| Colombia | ✓ | ✓ | |
| Costa Rica | ✓ | ✓ | ✓ |
| Croatia | ✓ | ✓ | ✓ |
| Cuba | ✓ | | |
| Cyprus | | | ✓ |
| Czech Republic | ✓ | | ✓ |
| Denmark | ✓ | ✓ | ✓ |
| Dominica | ✓ | ✓ | |
| Dominican Republic | ✓ | ✓ | |
| Ecuador | ✓ | ✓ | |
| El Salvador | ✓ | ✓ | |
| Estonia | ✓ | | ✓ |
| Finland | ✓ | ✓ | ✓ |
| France | ✓ | ✓ | ✓ |
| Germany | ✓ | ✓ | ✓ |
| Greece | | ✓ | ✓ |
| Grenada | ✓ | ✓ | |
| Guatemala | ✓ | ✓ | |
| Haiti | ✓ | ✓ | |
| Honduras | ✓ | ✓ | |
| Hungary | ✓ | | ✓ |
| Iceland | ✓ | ✓ | ✓ |
| Ireland | ✓ | ✓ | ✓ |
| Italy | ✓ | ✓ | ✓ |
| Jamaica | ✓ | ✓ | |
| Latvia | ✓ | | ✓ |
| Liechtenstein | ✓ | ✓ | ✓ |
| Lithuania | ✓ | | ✓ |
| Luxembourg | ✓ | ✓ | ✓ |
| Malta | ✓ | ✓ | ✓ |
| Mexico | ✓ | ✓ | |
| Monaco | ✓ | ✓ | ✓ |
| Netherlands | ✓ | ✓ | ✓ |
| New Zealand | ✓ | ✓ | ✓ |
| Nicaragua | ✓ | | |
| Norway | ✓ | ✓ | ✓ |
| Panama | ✓ | ✓ | ✓ |
| Paraguay | ✓ | ✓ | |
| Peru | ✓ | ✓ | |
| Poland | ✓ | | ✓ |
| Portugal | ✓ | ✓ | ✓ |
| St. Kitts and Nevis | ✓ | ✓ | ✓ |
| St. Lucia | ✓ | ✓ | |
| St. Vincent | ✓ | ✓ | |
| San Marino | ✓ | ✓ | ✓ |
| Slovakia | ✓ | | ✓ |
| Slovenia | ✓ | | ✓ |
| Spain | ✓ | ✓ | ✓ |
| Suriname | ✓ | ✓ | |
| Sweden | ✓ | ✓ | ✓ |
| Switzerland | ✓ | ✓ | ✓ |
| Trinidad and Tobago | ✓ | ✓ | ✓ |
| United Kingdom | ✓ | ✓ | ✓ |
| United States | ✓ | ✓ | ✓ |
| Uruguay | ✓ | ✓ | ✓ |
| Vatican City | ✓ | ✓ | ✓ |
| Venezuela | ✓ | ✓ | |