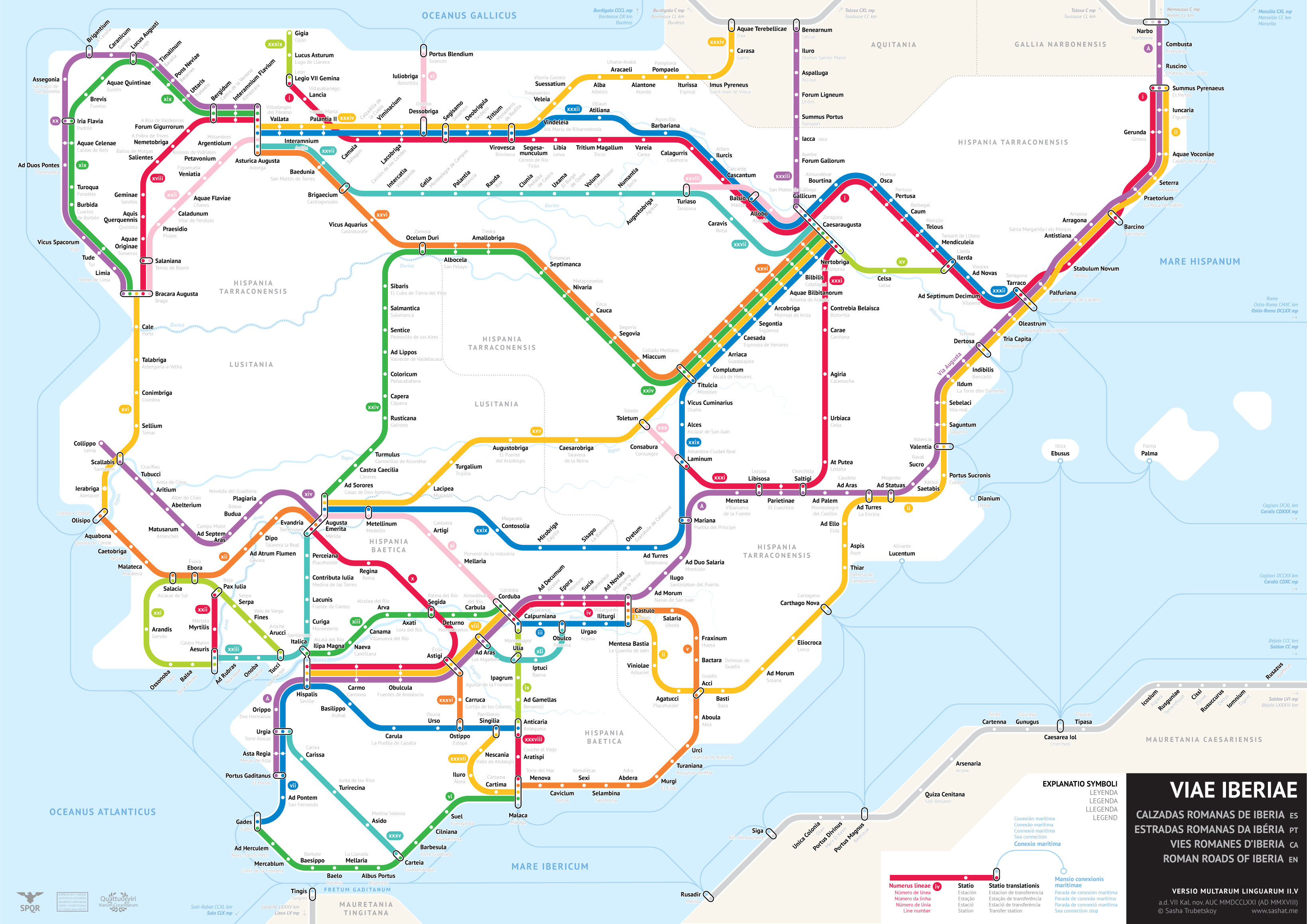 Notes:
This map was a blast to make. I chose to follow the Antonine Itinerary more strictly, which meant that I had to deal with many parallel lines. This forced me to go out of my comfort zone with a new design, but I think it looks good in the end.
"Line number" generally corresponds to the iter number in the Antonine Itinerary. The following line numbers do not match the Antonine Itinerary: ix, xiii, xv, and any number above xxxiv. The reason for this is that a couple of Antonine routes were ambiguous and not easily placed on a map, while a few important routes were missing for which there is archaeological evidence. I excluded those "broken" Antonine routes and included important missing ones, assigning them numbers.
Once again Pelagios and Stanford Orbis were a huge help. Big thank you to Pau De Soto for providing me with shapefile data on the Antonine Itinerary in Hispania and Lusitania, which I was able to use to help me sketch out the map.
Fixes
Versio II.III:
Minor alignments/adjustments
Added modern place names for Brevis and Aquae Quintinae
Fixed loose label for Brigantium (A Coruña)
Changed modern name for Sebelaci from Villarreal (Castilian spelling) to Vila-Real (Catalan spelling)
Fixed modern location of Ildum (La Torre d'en Doménec)
Replaced Victoriacum with Suessatium
Versio II.IV:
Renamed Palantia on Line XXIV to "Palantia II" to prevent confusion with the station on line XXVII
Moved Brigantium-Portus Blendium sea connection slightly down so that it maintains the proper margin from the border
Renamed "Emerita Augusta" to "Augusta Emerita", since the latter name was more commonly used
Titulcia is most likely present-day Móstoles, according to the most recent scholarship. I have changed the modern name accordingly.
Versio II.V:
Added modern place names for cities on line xxxv (I guess the file didn't save the last time I did it…)